From 17th-21st October 2006 Ematik
exhibits its extruder program at Fakuma.
In particular, the Co-Extruder with self-
developed torque drive took great interest
from the professional audience.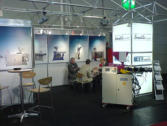 Since 2006 Ematik is a member of the network for medical technology
and is actively involved in the development of innovative medical
products based on plastics. For this purpose Ematik developed a
special laboratory extruder, which is situated in the commercial center
of Halberstadt in pilot plants.

24 -31. October 2007 Ematik presented their latest developments at the K-fair in
Duesseldorf.
• extruder with co-extruder (60-25 KEP and KEP-S-B 50-25-S)
• KEP 50-27-N/TM extruder with torque motor, second-generation
• Single-screw laboratory extruder (KEP 25-33 E) with degassing

On 28.12.2007 Ematik GmbH movs into its new
headquarters in the Otto-Lilienthal-Straße 7, 39120
Magdeburg. With a prestigious building, a pilot plant
and a modern manufacturing facility, the basis for
further successful expansion of Ematik is placed.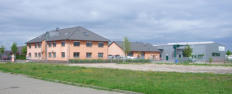 2011
An extrusion line for foaming geothermal tubes is developed and put into operation.
Ematik celebrates its 20th anniversary 25.03.2011
Ematik GmbH is awarded for 20 years of successful entrepreneurial activities by
the Mayor of the city of Magdeburg, Dr. Lutz Trümper.
The Annual Report 2010 of the Bank Stadtsparkasse Magdeburg reports in detail
on Ematik. Download:
Anual Report 2010

Ematik exhibits at the K-Fair in Duesseldorf. Ematik will present an extrusion
line for medical spiral breathing tubes and an extruder for Micro-Extrusion.
Hall 16 Booth D68, 16-23.Oktober 2013

Ematik puts into operation an extrusion line for medical spiral breathing
tubes. The two Ppastics are PVC hard for the spiral and PVC soft for the
tube. With this technology other tubes can be produced.

Ematik starts the development of a Micro Extruder for medical catheters.
The target of development is to produce seamless catheters with a wall
thickness of 0,1 mm and a diameter of 2 Milimeters. For this purpose a
spiral mandrel dia is going to be developed in addition.
Joint research project to develop an extrusion line for the production of medical
catheter tubes made ​​of silicone with an anitbacterial effect.

Development of an extruder with Torquemotor for the processing of high
temperature plastics such as PEEK

Ematik successfully exhibits on the K-Fair 2010 and is able to report various
business transactions.

Ematik receives the contract for the delivery of an extrusion line for
the development of catheter tubing from the Otto-von-Guericke
University Magdeburg

The construction of a new production hall with an area of 800 square meters is
proceeding apace. With the new hall the successful development of the product
range of plastic machines will go on.



Development of a spiral mandrel tool.
On the basis of extensive FEM analyzes based on viscosity curves and the
technical parameters of the respective type of plastic, a modular spiral
mandrel tool was developed. With this technology we are able to produce
seemlees microtubes.
The K-fairs Düsseldorf in 2016 was very successful. A lot of new products
and developments were presented to our customers.