Main Extruders
The main principle of the SKETmatik extruders is that they are manufactured to strict design principles and quality
control to meet our customer's requirements.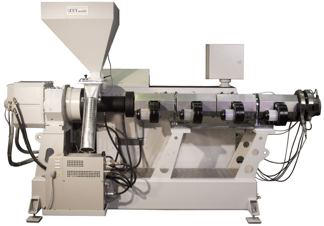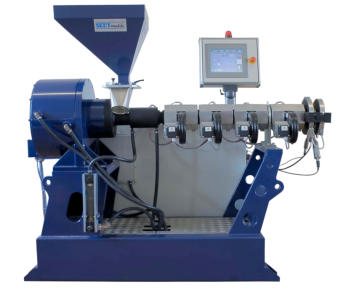 Barrel & Screw
Barrel & Screw are available with L/d ratios
from 25 to 35. The screws are nitrided as
standard The barrels are air cooled with
water-cooling to the feed zone. The options of
grooved feed zones with axial or spiral
grooves are also available. Screws can be
supplied with any geometry to meet specific
requirements including: Barrier screws that
can be combined with shearing and/or mixing
zones The screws can be removed from the
barrel either forwards or backwards Bi-metallic
cylinders are available for use with abrasive
materials. Screws in special material are also
available
Drive
As standard motor and gearbox are mounted in a
U configuration and the motor is AC with a digital
controller (flux vector). Alternative drive systems are
available: Compact Geared Motor, Torque Motor
Both of these systems have the advantage of taking
minimal space, having low noise levels, and are
environmentally clean being water-cooled. The AC
digital controller can also be water cooled if required.
Barrel Temperature Control
Efficient barrel temperature control is achieved
using ceramic or glimmer heater bands and
cooling fans blowing over specially designed
copper cooling fins to improve cooling
efficiency
Hopper:
The hopper can easily be moved between three
positions: OPEN; CLOSED and
DISCHARGE.Hoppers with sight windows or level
monitoring systems are also available.Pneumatic or
other material handling systems can also be
accommodated.
T

ool Connection Flange
The barrel can be supplied with a thread
outlet end or a complete flange assembly to
suit the customer's requirements
Safety Features
can include: Bursting Disc to protect
against excessive pressure.Safety cut-
off in case of high motor load. Melt
pressure Transducer to protect against
excessive die pressure.
Frame
Is a robust steel construction designed for low vibration levels.
The frame incorporates separate piping systems for water, oil and
compressed air according to the machines specific design.
Electrical Control
The electrical control panel is integrated in to the machine and can include the follow
variations to suit specific requirements:
•
Single loop temperature control with automatic self tune.
•
Touch Screen or Screen based control systems.
•
Screen & control mounted in a pivoting housing.
•
Potentiometer for infinitely variable sped control.
•
Meters to indicate motor current and screw speed.
•
Alarm indication via a flashing light system.
•
Emergency Stop
•
Run time counter
•
Timed start up clock.